Holy cannoli, this was my most intense hike so far: hiking over 200km along the coast, mainly on paved roads.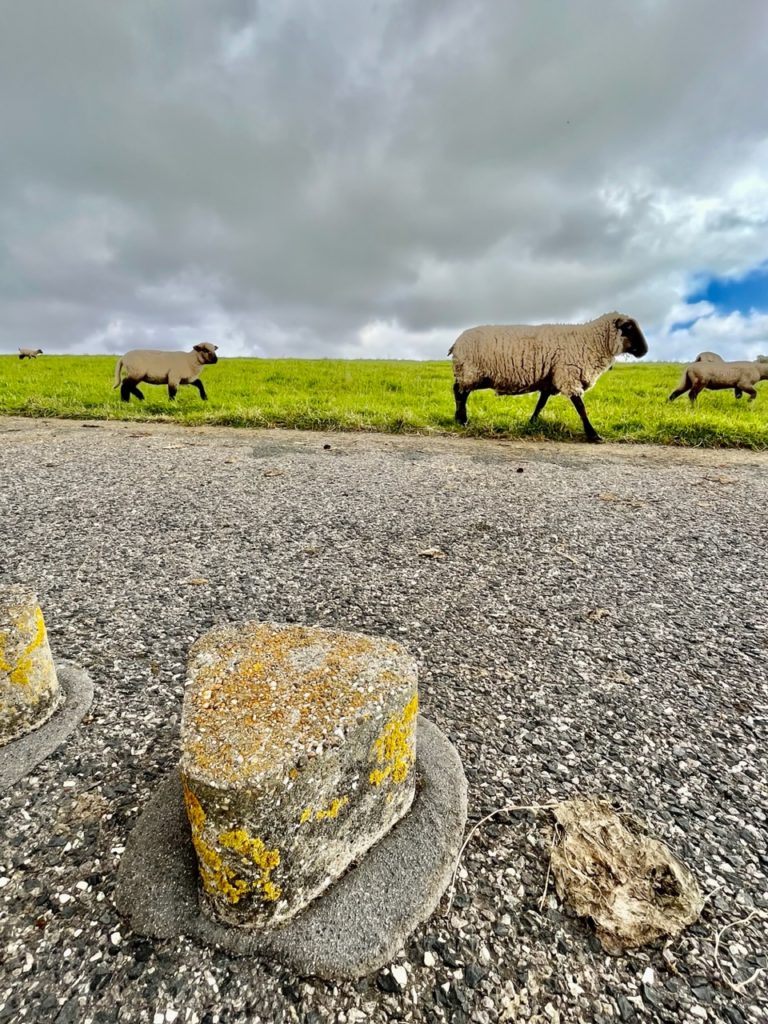 The Route
I wanted to do the Stoertebeker trail along the North Sea coast. My crazy idea: to make it more challenging, I wanted to finish the whole trail within four days, without knowing the location, the conditions or anything in this region.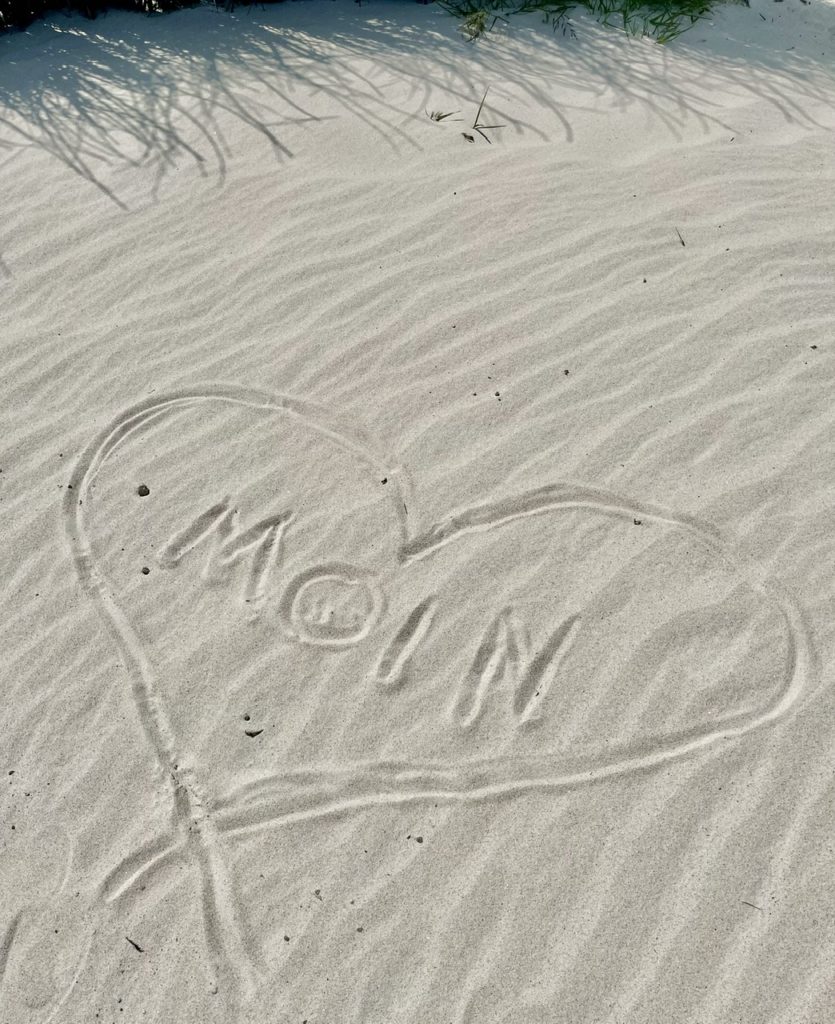 The training plan
Together with a fitness coach, we created a four-week-training plan focusing on endurance and strength training, working out six days a week – on Wednesdays, I trained three times a day. Though endurance is key, you definitely need to integrate strength training, since this kind of hiking is a lot of stress for your body. Generally, long-distance hiking is an intense activity that requires some training. Don't start such a trip without the proper preparation. Also, if you are new to long-distance hiking, you should go for a light, easy first tour.
These steps might help you to prep for your next ultra hike or thru hike:
I. Aerobic exercises: these kind of exercises are perfect for hiking, since they allow you to keep going for a substantial amount of time. Training your endurance will keep you going physically strong through your whole hike. I went for running, hiking and biking.
II. Walk: You need to walk on a daily basis. Walk to work, to the supermarket, your doctor's appointment. Walk as much as possible.
III. Resistance Training: You need to build your muscular strength along with boosting your muscular endurance growing skeletal muscles. Skeletal muscles connect to bones that move the mechanics of your body. Building these muscles are important for long-distance hiking due to the intensity of hiking on the body – especially on paved roads. I myself focused on my legs, hips and core and admit that I neglected my arms, chest and shoulders a little. I definitely should have included more strength training for my upper body. That is one big learning for me.
IV: Use your gear: Pack as light as possible and only take along what's really necessary. This one is crucial. A loaded backpack should not weigh more than about 20 percent of your body weight. For me, this is still too much, but when you have to take along your camping gear (tent, sleeping bag etc.), it is tough. Practice hiking and running with your gear, wear weights on your treadmill runs and train on similar terrain to figure out what works best for you. I tried all my different pairs of shoes and then had one pair customised for my feet so that I could manage it on paved roads. The same applies for the backpack: take the smaller and lighter version. You will regret everything else. Since every body is different, I can only share what worked for me: adidas terrex shoes and Ortovox Traverse 38 S (particularly suited for women).
V: Mental training: Believe me when I tell you that it is going to be tough and painful. But you need to prepare yourself and develop a plan to tackle possible obstacles, tiredness. I integrated meditation sessions and already knew how painful it can get. I just remembered my alpine crossing and knew how much it is gonna hurt at some point. You need to find your own way how to deal with it. In the end, for me, it was music. When things got rough, I listened to hard rock and metal, I even sang or rather screamed along. But, hey, it worked. So, you do you. But practice it, put yourself in uncomfortable situations and find out what works best to pull through. This is crucial because, honestly, about 30-40 % is your physical strength, the rest is your mental strength.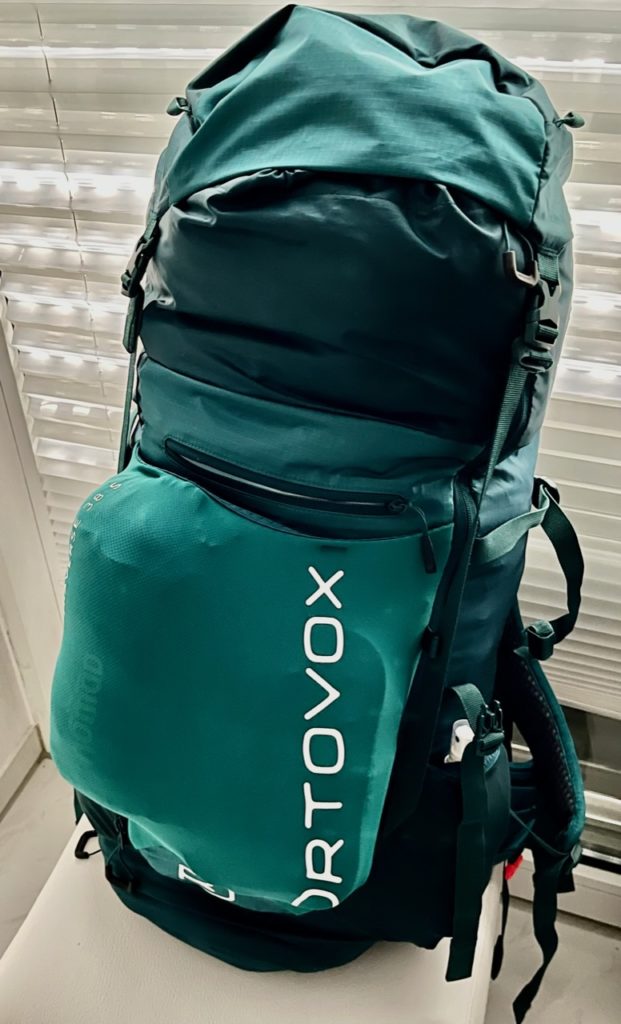 The check list
You can find my pack list on Instagram. Make sure to check 2 days prior your starting date because weather conditions and circumstances can change. This is what happened with me. I had pretty bad luck regarding the weather conditions so that I had to take along my heavier camping gear. Since I was mainly camping and temperatures dropped to 5-6 degrees Celsius, including some rain and heavy wind gusts, I knew I needed to stay warm. Also, when you hike alone like I do, take along some legal self-defence weapon, first-aid kit, share your route with friends and family and enable GPS-tracking just to be on the safe side. Have regular check-ins, let your folks know how you are doing.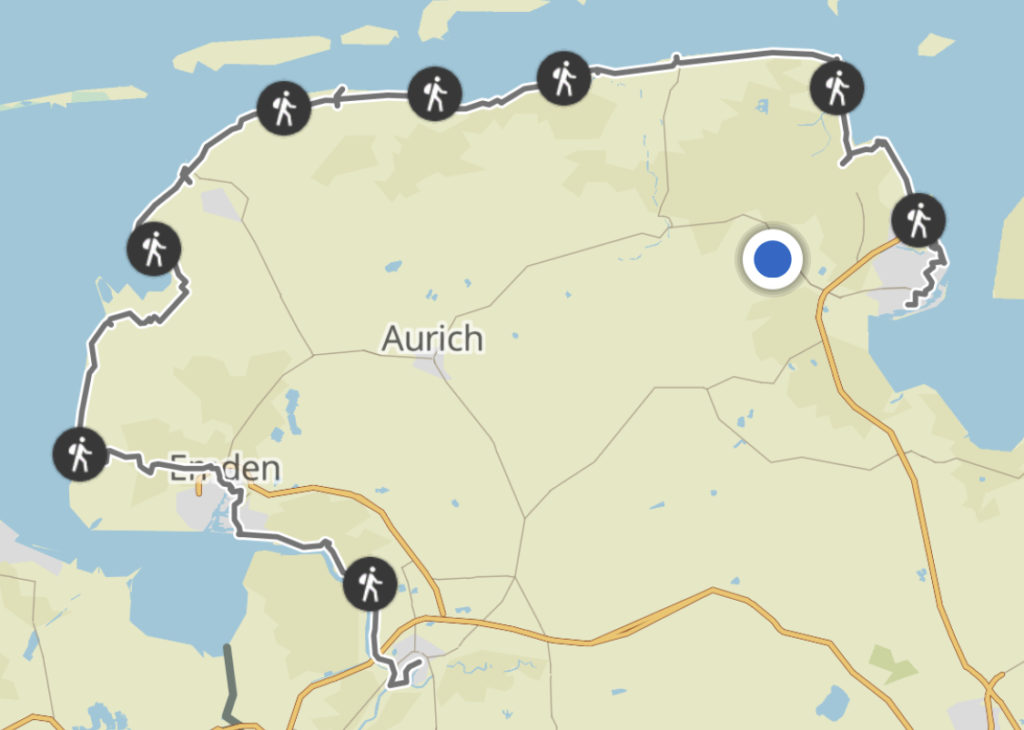 The stages
Stage I: Leer – Emden – Pilsum – Greetsiel: 51.73 km – Tuesday, 10 a.m. till 8:30 p.m.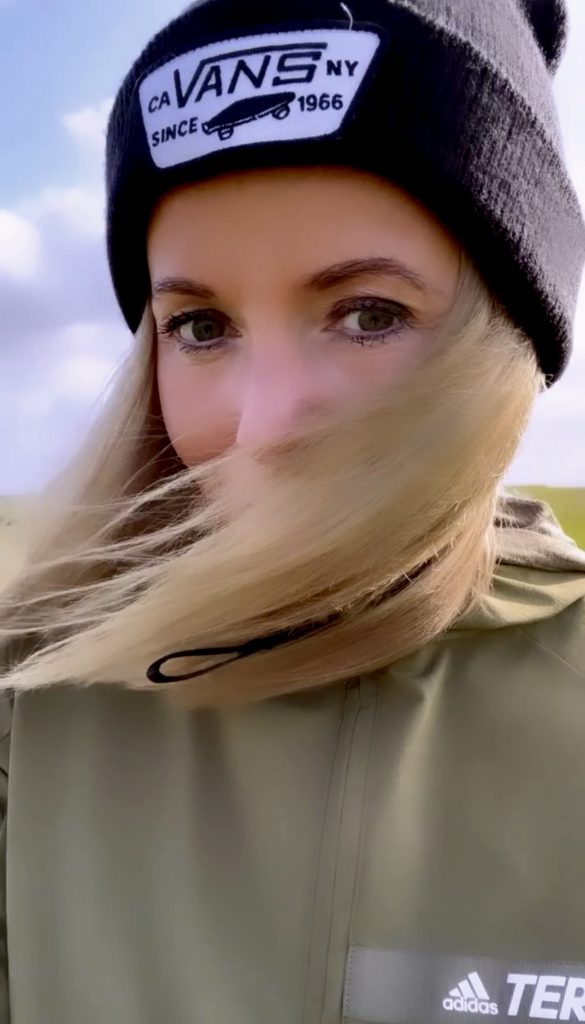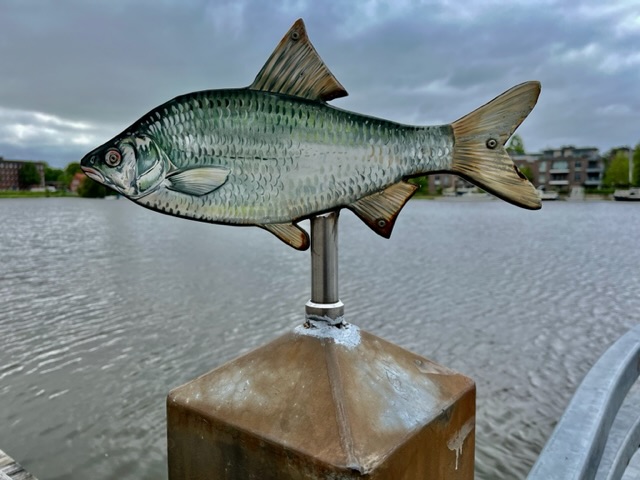 I know "hate" is a strong word, but I hated it so much. Wind gusts of over 30 km/h, some rain showers, walking on the so called dike was not possible due to the heavy wind gusts. At one section I tried to climb over a fence but then got struck by the wind and almost fell. For me, that meant that I had to go road hiking with 15 kg on my back. Yep, the most painful of it all. 50k on paved roads, through strong winds and rain showers. I hated every single second. It really, really sucked. That was the moment when I made some adjustments to my first stage. I initially wanted to hike 90k through the night, but no chance in hell. So I stopped after 51.73 km and needed some rest and a hot shower. I think I slept for 3-4 hours. Boy, it hurt soooooo much and I was freezing like crazy. There were moments when I thought to simply screw the whole thing, forget about it. – I definitely needed some motivational messages from my friends. Talking, yelling and sharing a bit of self-pity helped. Actually, it helped a lot. I won't name the people here on the blog, since they know that I am talking about them and how grateful I am for their support. 💗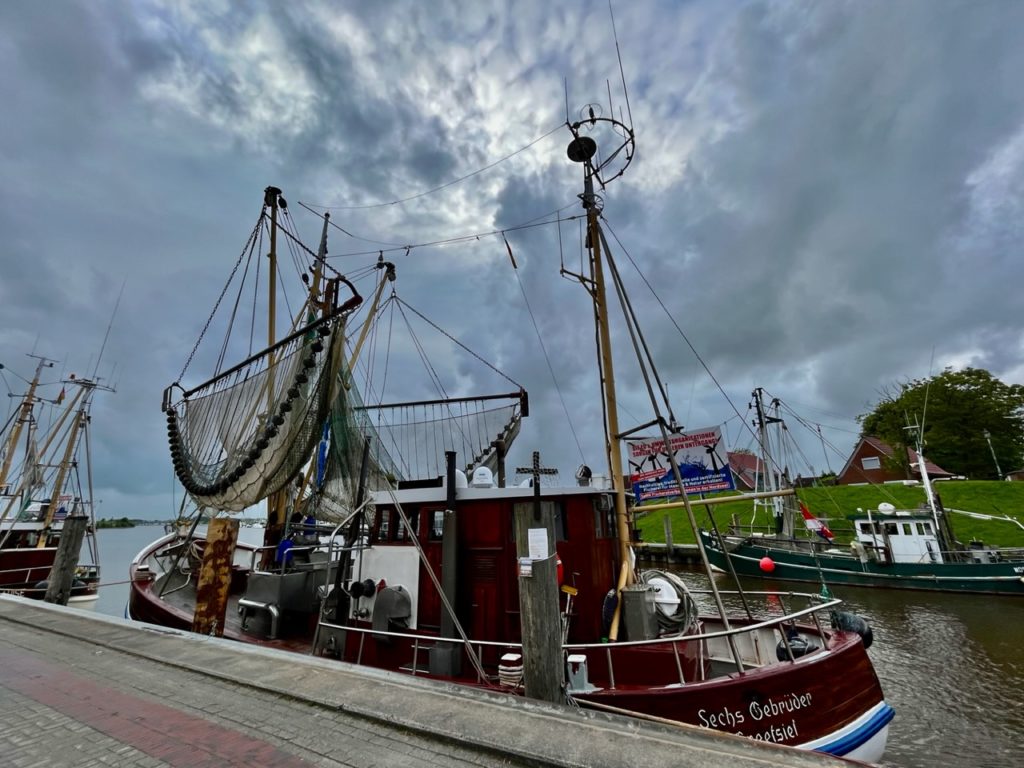 Stage II: Exploring Greetsiel – Norden – Norddeich – 31.43 km – Wednesday 5 a.m. till noon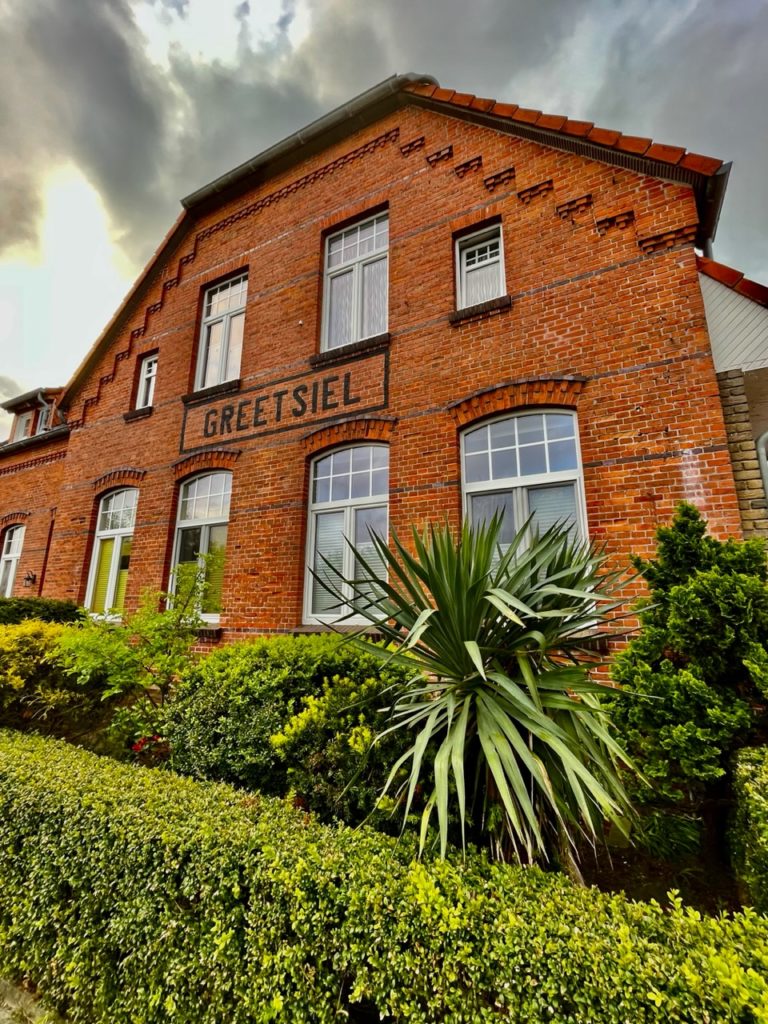 I got up before sunrise and needed some coffee, explored the beautiful city of Greetsiel before I continued for the next 25k. This wind was killing me. AGAIN, strong winds, some rain, it was so freaking cold, my feet hurt. I told myself over and over again that I will pull through. It was mental. I needed my strong willpower, simply forget about the pain, just walk – just keep walking till you reach the beach in Norddeich. I reached it at around noon and wasn't able to walk one single step further. I was just resting in my beach chair, couldn't move, was just laying there in the sun, hoping to recover, afraid to look at my feet. But I knew at some point I had to take my socks off and take care of them. They hurt, blisters all over, man I felt like crying. So, I took out my first aid kit, used all the special foot care I took along and taped my feet. From this second onwards I knew that I will keep them taped till the end of my hike.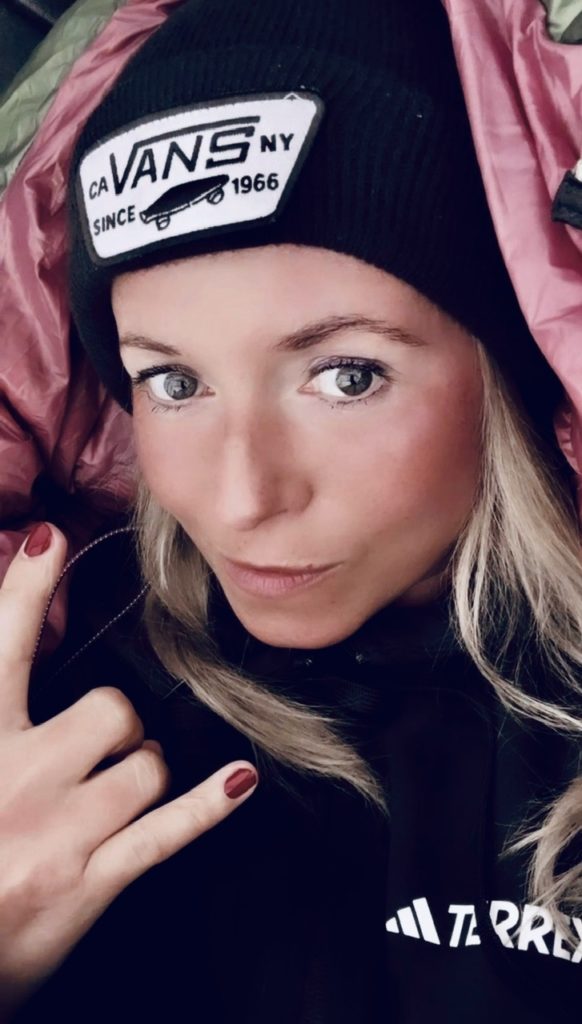 I was sleeping in a beach chair and it got really, really cold at night with some rain. Yeah, the images look romantic, it sure can be romantic, but not alone at night, when it's raining, windy and about 5 degrees celsius. I woke up at around 2 a.m. and needed to put on additional layers cause it was so freaking cold – counting the hours till sunrise.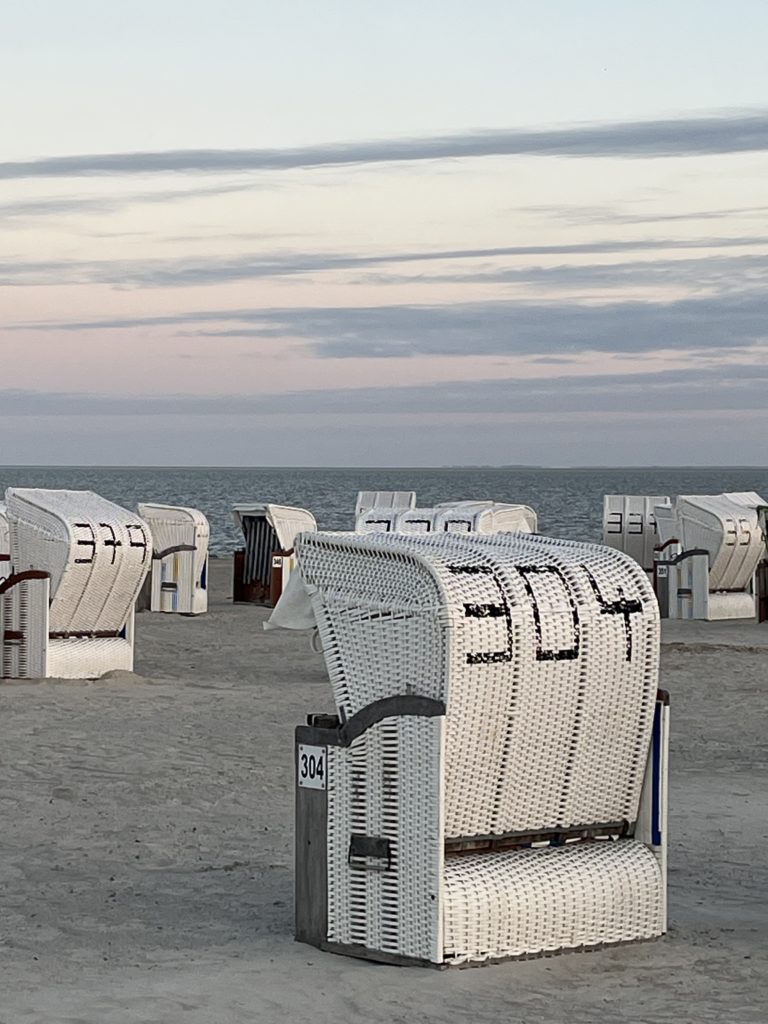 Stage III: Bensersiel – Neuharlingersiel – Harlesiel – 56.4 km – Thursday 4:30 a.m. – 4 p.m.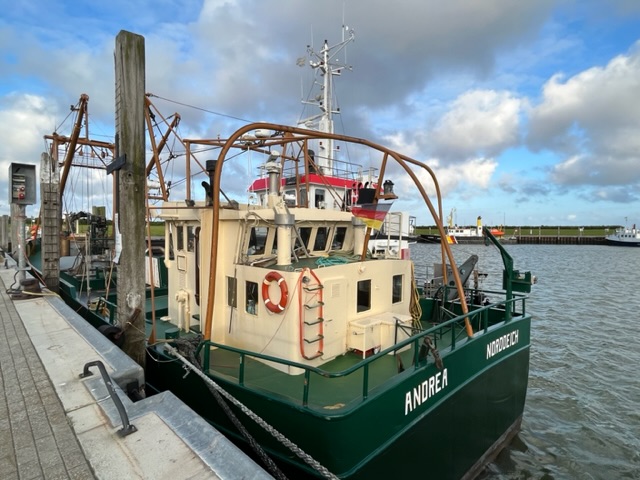 Mentally, this was my lowest point. I did not get enough sleep, my whole body hurt, my feet hurt even worse and I just had to cry. I was a real pussy, couldn't stop crying in the morning because of the pain and tiredness. After having walked for about 5k, I just sat on a bench and cried, I knew I needed to let it all out. I mean, I was alone anyways. For the whole trip, there were no hikers, no other backpackers, only sheep on the dike and some annoying e-bike tourists. And since it was still pretty windy, nobody would hear me cry. Once again the messages from some of my friends helped. And it helped that I could just send them voice messages. I needed some time till I could pull through. But then I did.
Generally, this stage was the most annoying route. Man, I cannot stand these special kind of e-bike tourists: a special tribe of people that looks a little unfit, they completely block the trail and are yelling at you when you are passing by foot. They were everywhere during this stage. So, I just put on my music and walked, just walked. At some point adrenaline and other stress hormones kick in, you forget about your pain and your body just functions. You become a robot. But it helps. It really is amazing what your body can do.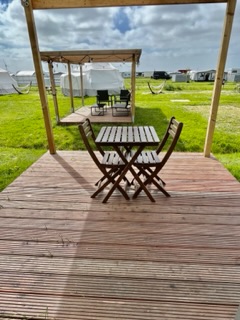 In the afternoon I finally reached a great camping spot, took a hot shower and fell asleep pretty early.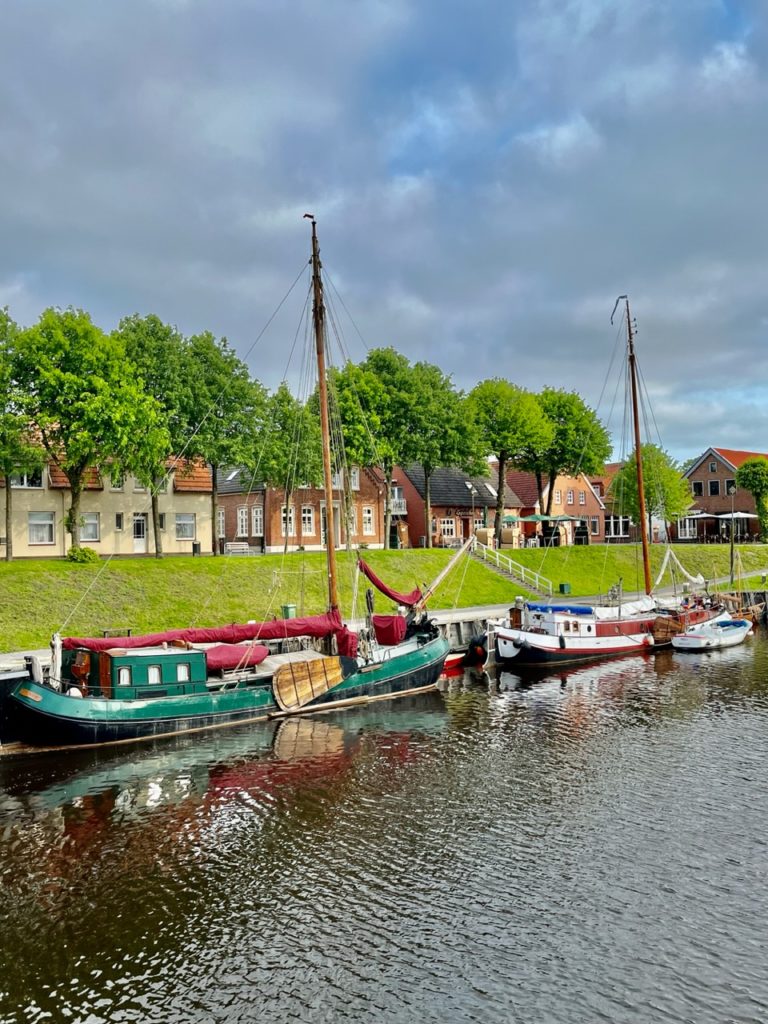 Stage IV: Carolinensiel – Schillig – Hooksiel – Schortens – 53 km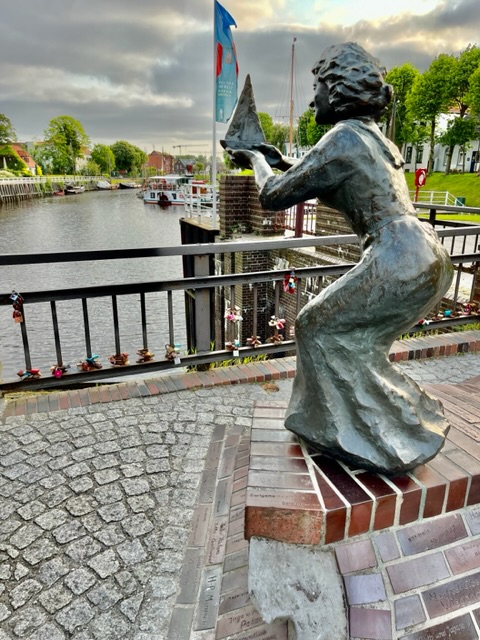 Sometimes I tend to make my life unnecessarily more difficult than it needs to be. On Google Maps I found this cute camping spot in the middle of some forest, right at a lake. So, I thought to integrate a little detour going to Schortens, checking out this pretty place instead of going directly to Wilhelmshaven. Yeah, the joke was on me.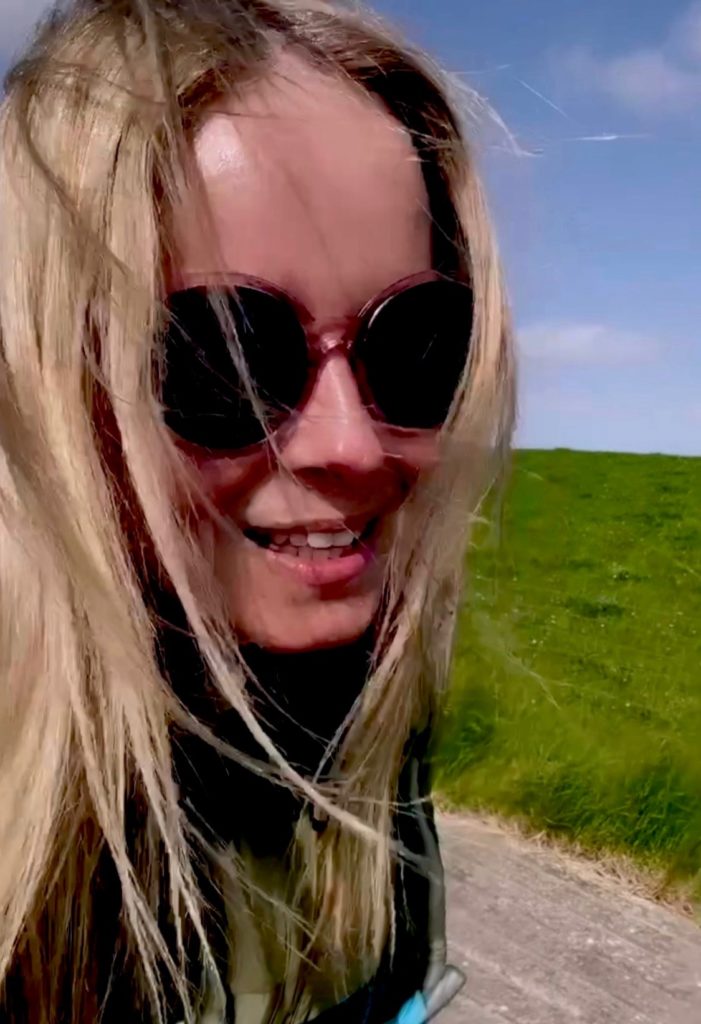 In the beginning of my tour, I had the best time. I slept amazing, had some great coffee in Carolinensiel and walked on sandy beaches in Schillig, one of my most favorite places on this route. And guess what, I finally had wind gusts coming from behind and the sun was coming out. Man, I loved it and put on my Greenday and Guns 'N Roses playlist, sang along and just walked, smiled, had fun. The fun part has been pretty rare in the first two days. I even had so much fun, that I missed a turn and accidentally did another detour, went back and stopped at the beach in Hooksiel. Afterwards, I went to Schortens, to this supposedly beautiful camping spot. Well, the images look nice, but the lake is right next to a German Bundesstraße (federal road): pretty noisy, the service was awful and when you had to use the facilities, you had to gag cause it was smelling like a sewer or cesspool.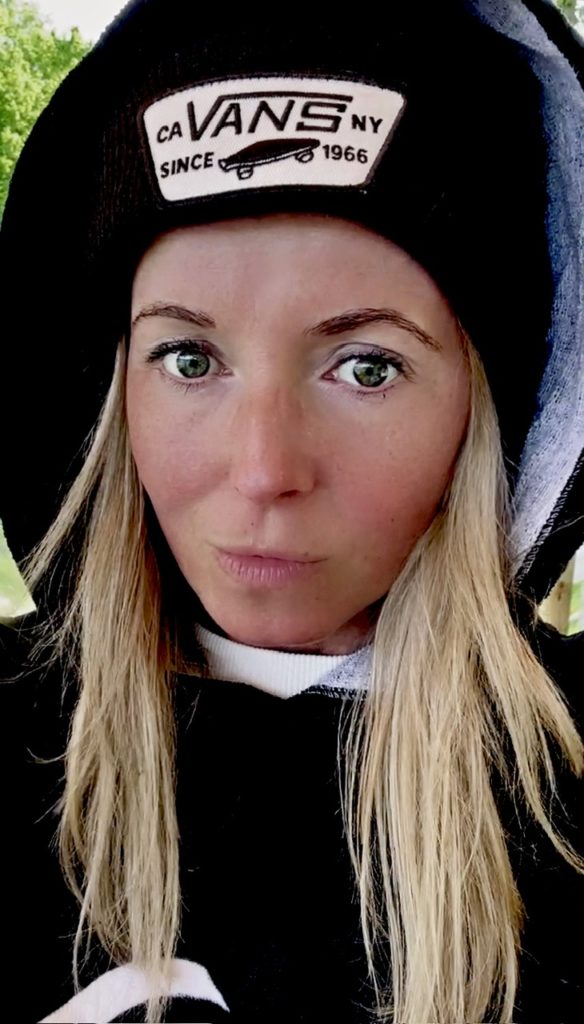 This was another cold night and I just wanted to finish my tour.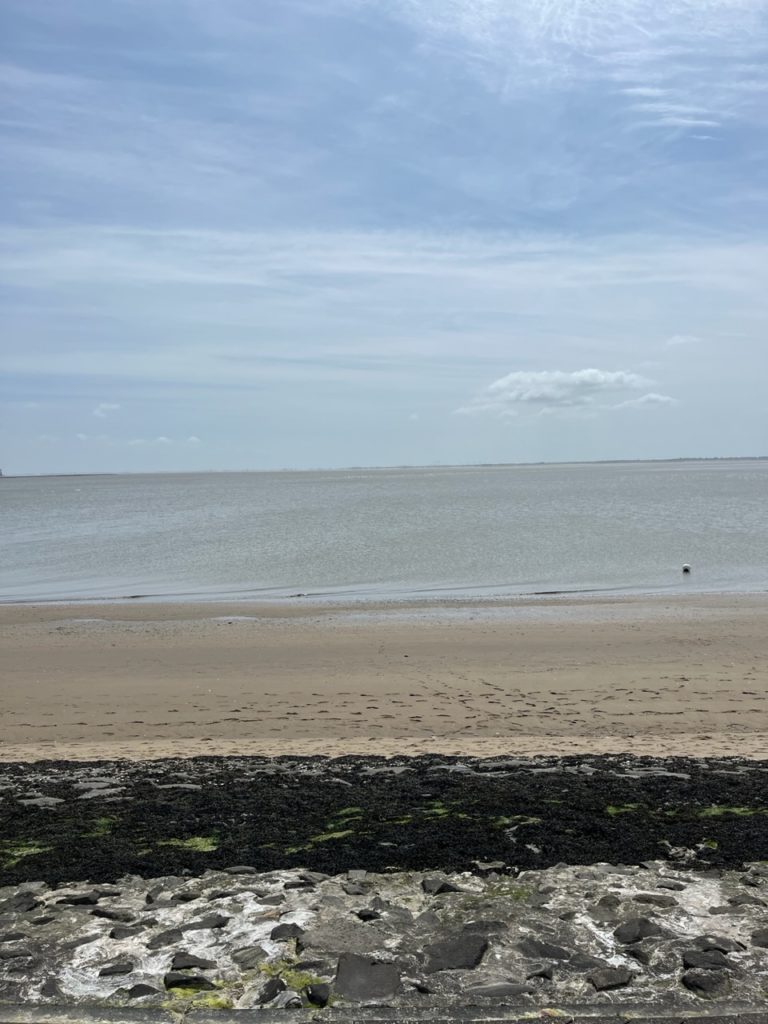 Stage V: Schortens – Wilhelmshaven: 20k – finished Saturday at 10: 24 a.m.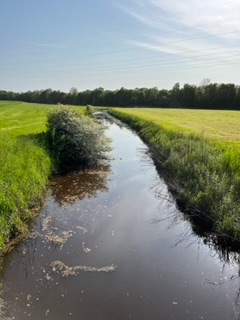 Once again I got up before sunrise and just wanted to finish this trip. I hiked as fast as I could – like there was no tomorrow. Sometimes I was even jogging with my 15kg backpack. I so didn't care and just wanted to arrive, which I did. I think it was by far my fastest route. Completely out of breath and extremely happy, I crossed my finish line – and then arrived at the hotel in Wilhelmshaven. Hallelujah!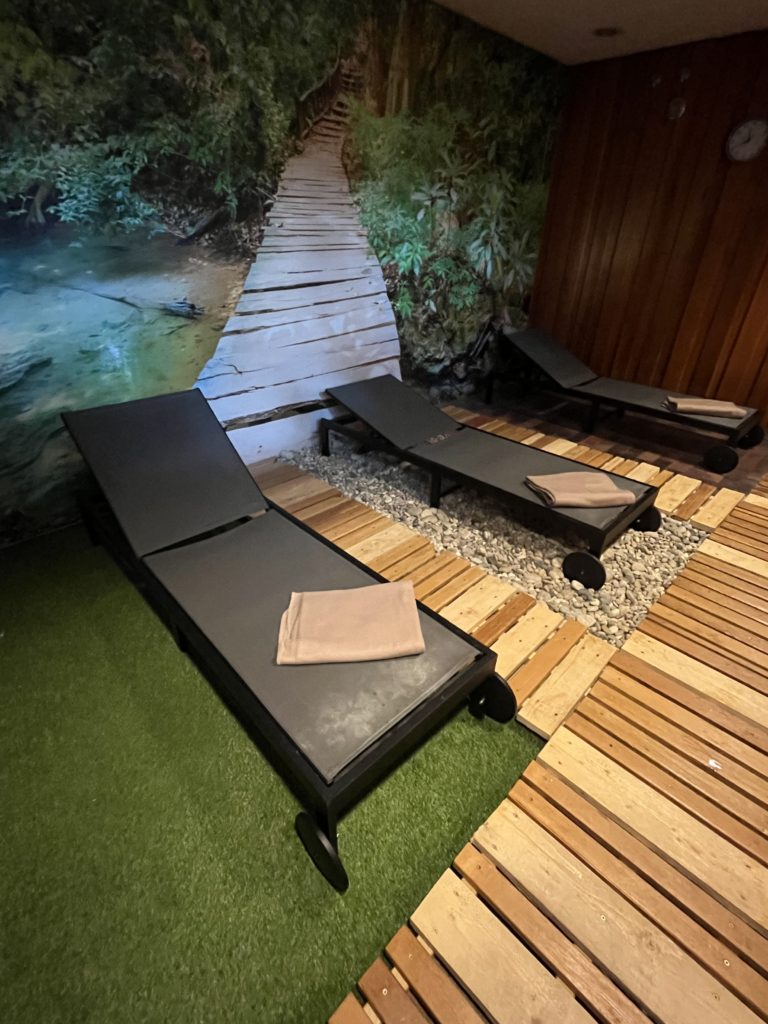 Active Recovery: From Saturday till Tuesday, I stayed in a hotel and worked on my active recovery – daily swims and sauna, some relaxing walks, lots of sleep and some private time. Sauna, swimming and lots of sleep helped me to fully recover. Sunday was a special spa and personal day somewhere else: sauna, relaxation and private time all day long. ☀️
It was a lot of stress to my body. Sometimes I couldn't really eat, in fact, today, Tuesday, was the first day where I could eat three regular meals. And it still hurts. I can tell that my digestive system needs a little more time. On other days during my tour, I needed to force myself to eat something, and then it was almost next to nothing. I definitely pushed my body, but am pretty darn proud that I managed it. It might not sound as tough to you, but for me, mentally and physically, it was. Walking on paved roads is insane, it hurts like hell, you really need the right gear and good muscle strength. And when you have strong wind gusts and rain, cold weather coming along, it's just tough. It just is.
Of course, I lost a few pounds, but mostly water, also some muscle mass and fat, but after my first check-up today, things look good. I will receive my recovery plan tomorrow after my 30k bike ride and will then get my training plan with the Adidas club. After one challenge is before the next challenge. 🤘🏼Will share more details soon. 🙃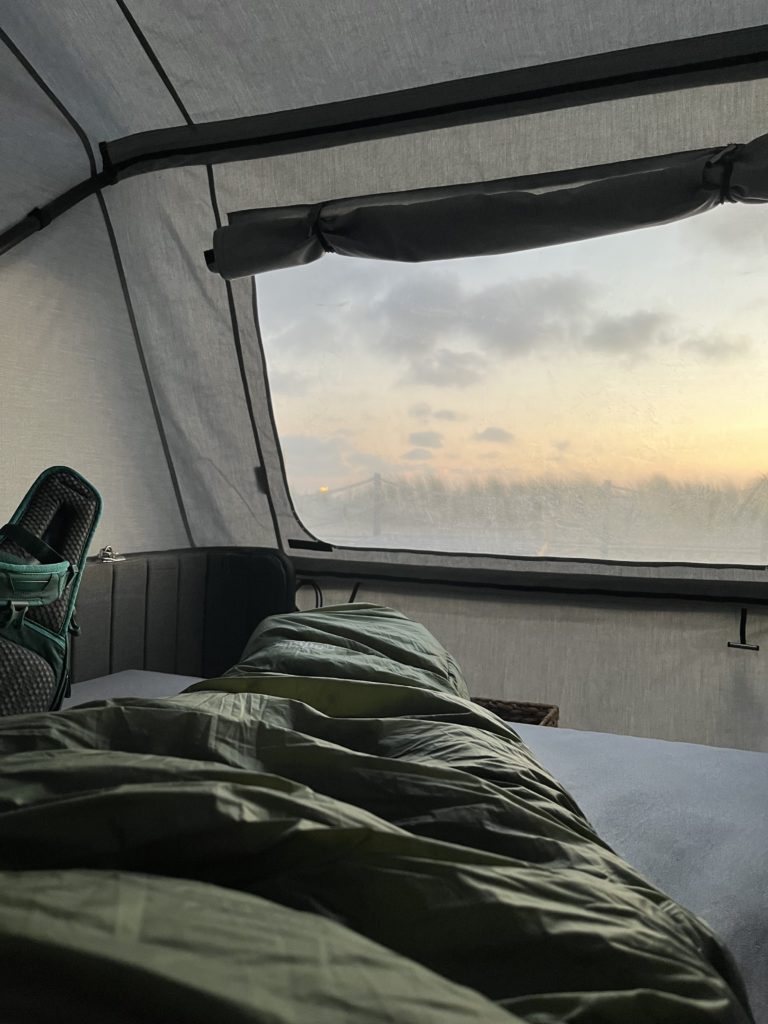 Accomodations
I only share the accommodations and inspirations I can really recommend.
Sleeping Beach Chair: This is a very neat idea and I totally digg the whole concept. BUT: I would pick a different time and location next time. It really needs to be warm and you need to make sure that you have enough privacy. That wasn't the case in Norddeich – I felt like a tourist attraction. Also, in Norddeich you have to bring your own sleeping bag.
This sleeperoo was initially on my bucket list for this summer, preferably in a more romantic setting, but I found out that they filed for insolvency. 😞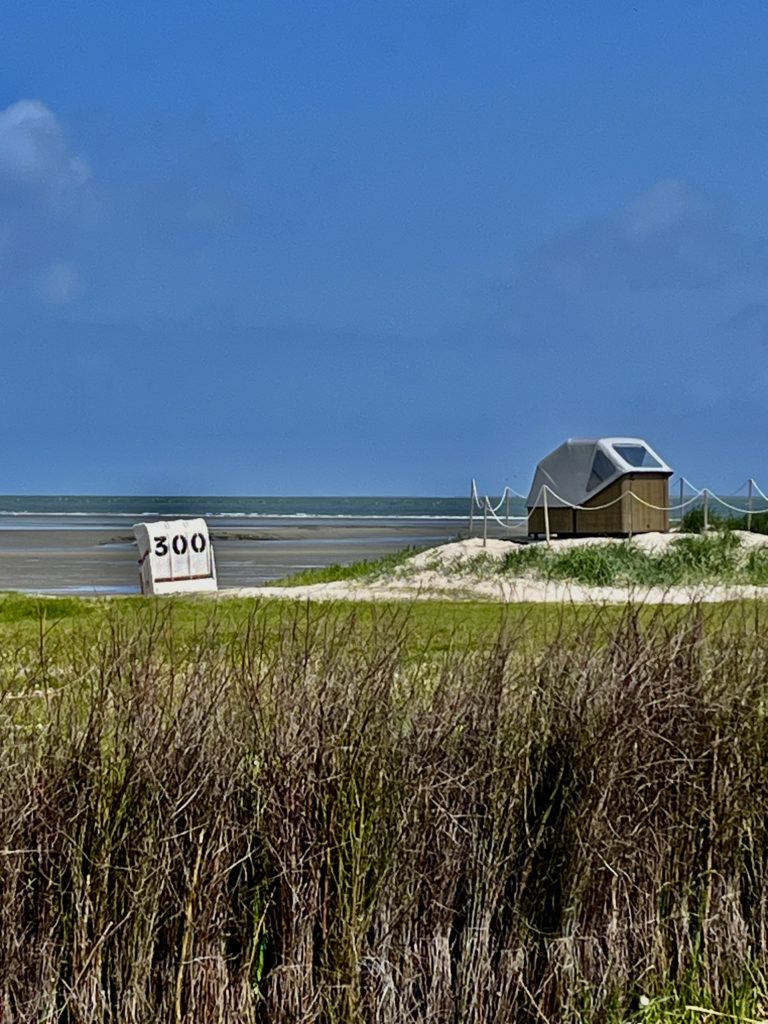 So, a romantic beach chair in Schillig or Hooksiel it is – but only during a hot summer night with enough privacy. 😌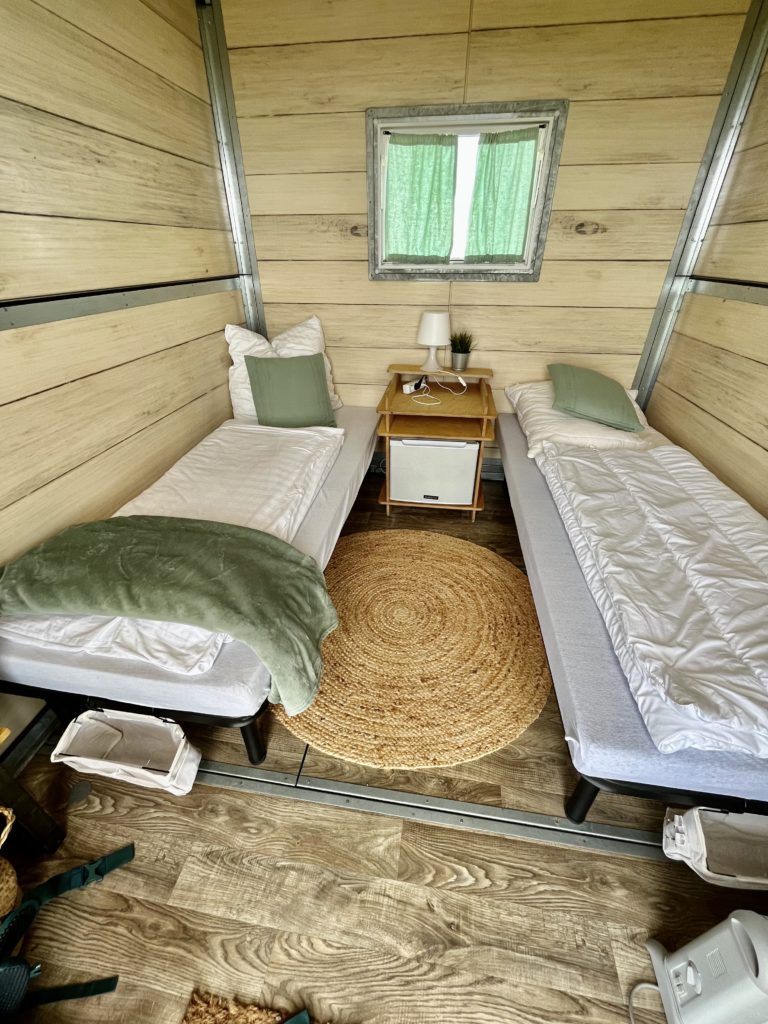 Harlesiel Glamping: My host Markus was wonderful – excellent service beforehand, very accommodating, friendly and the lodge I booked was so warm and cozy. They really took care of the little details so that you could feel at home. And the facilities were just around the corner, all very clean and great taken care of, opportunities to cook and hang with others – really a great place. I would definitely come back. 🙃
My favorite places
My four favorite spots were in Pilsum, Greetsiel, Schillig and Hooksiel. I will share all specs and details on these little beauties later this week here on the blog. These locations are definitely worth a visit and I am positive that I will come back.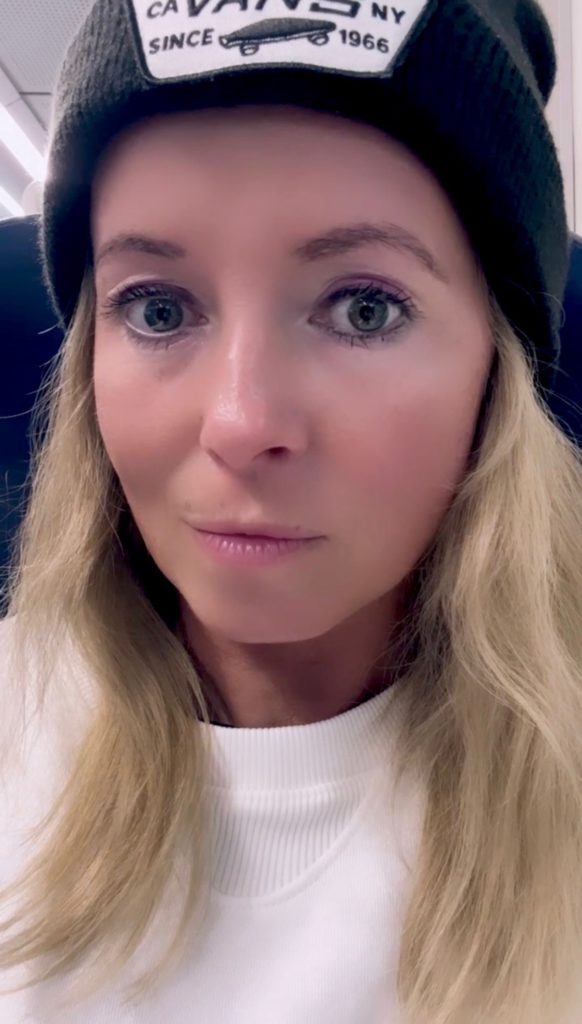 Recommendation?
Will I do it again? HELL NO! NEVER EVER! This whole trail is not for hiking – seriously! For biking, yes, but even then, I wouldn't pick this particular route. The stage from Leer to Emden was pretty boring to me. Though Leer itself has its charm, the bike route isn't sexy. Also, I don't like mass tourism and there were too many of these "special" e-bike tourists that will just get on your nerves.
Do I regret it? NO! I am proud of myself, that I pulled through – again, thank you so much to the special people that supported me, listened to my WhatsApp messages and helped me pull through. It is amazing what your body is capable of.
Did I have fun? Honestly, most of the time I hated it. I was swearing, wining, yelling – I did have my fun moments, though. 😅
Will I do another thru hike close to my new home? A sure yes. I was already looking for some trails where I can walk on sandy beaches or something more "hike-worthy". The bucket list is still in the making, but Denmark is surely on it and I will look at other places along the North Sea coast as well.
So, this is it for my recap on my thru hike. If you have any questions or wanna know more, just drop me an email or a DM on my social channels.
xoxo