*ADVERT*
Badrutt's Palace Hotel, in the center of St. Moritz, has been synonymous with glitz and glamour since the resort opened as the Palace Hotel in 1896. This landmark luxury hotel overlooks Lake Saint Moritz and offers views of the surrounding Swiss Alps.
Every guest can feel it. The St. Moritz magic at this hotel. The feeling when you enter the Le Grand Hall is indescribable. Like a spell, far from the daily routine. The history of this luxury hotel in St. Moritz draws you in again and again into its enchantment. This is what St. Moritz looks and feels like!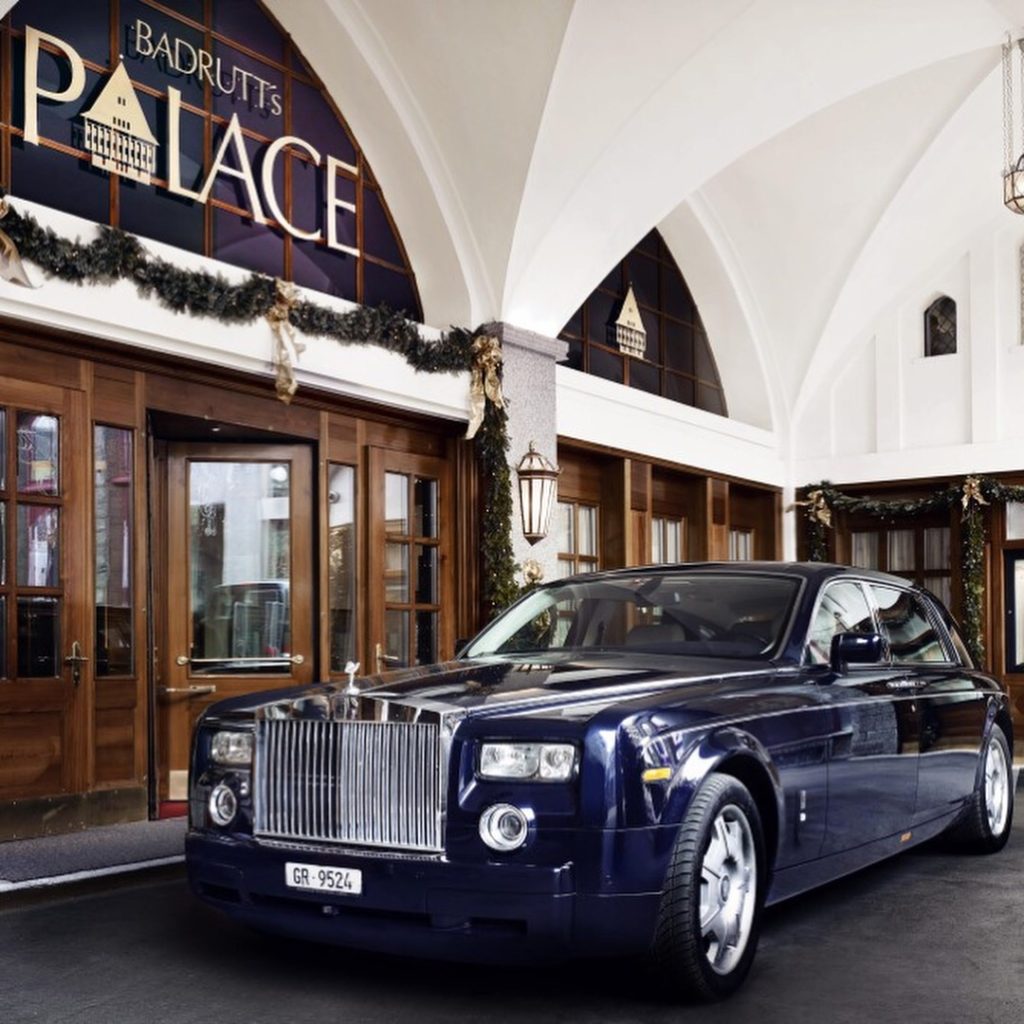 History
It all started in 1856 when Johannes Badrutt took over the 12-bed Pension Faller in St. Moritz and upgraded it into a hotel with the name Engadiner Kulm (today's Kulm Hotel).
This was followed by the legendary bet: Caspar Badrutt (1848-1904), son of Johannes Badrutt, purchased the St. Moritz Hotel Beau Rivage, built in 1872 by C. Rungger. He charged the renowned Swiss architects Chiodera and Tschudi with the remodelling of the hotel. The hotel was also renamed Palace Hotel.
Johannes Badrutt won a wager and brought the first English tourists to St. Moritz for winter sports. He built curling rinks and the world's first toboggan run and, in doing so, invented alpine winter tourism. And that was exactly the time, when the magic began.
The official opening of the Palace Hotel was then on July 29th, 1896.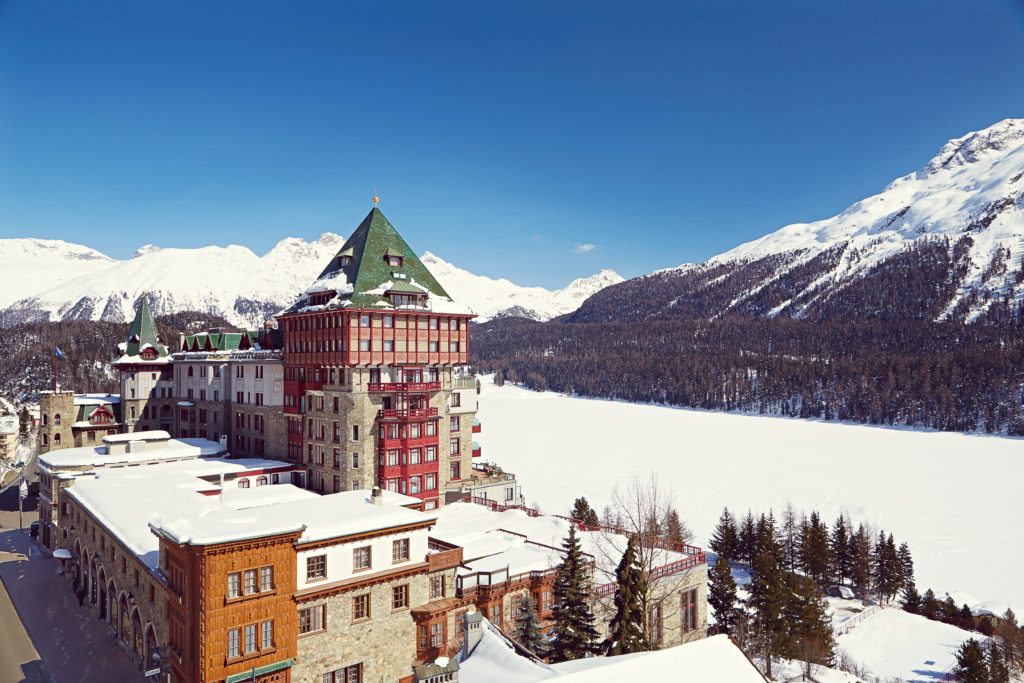 Regular Guests
Alfred Hitchcock first came to St. Moritz in 1924, and returned here two years later for his December honeymoon with Alma Reville, staying at Badrutt's Palace Hotel (these days, locals just call it "the Palace").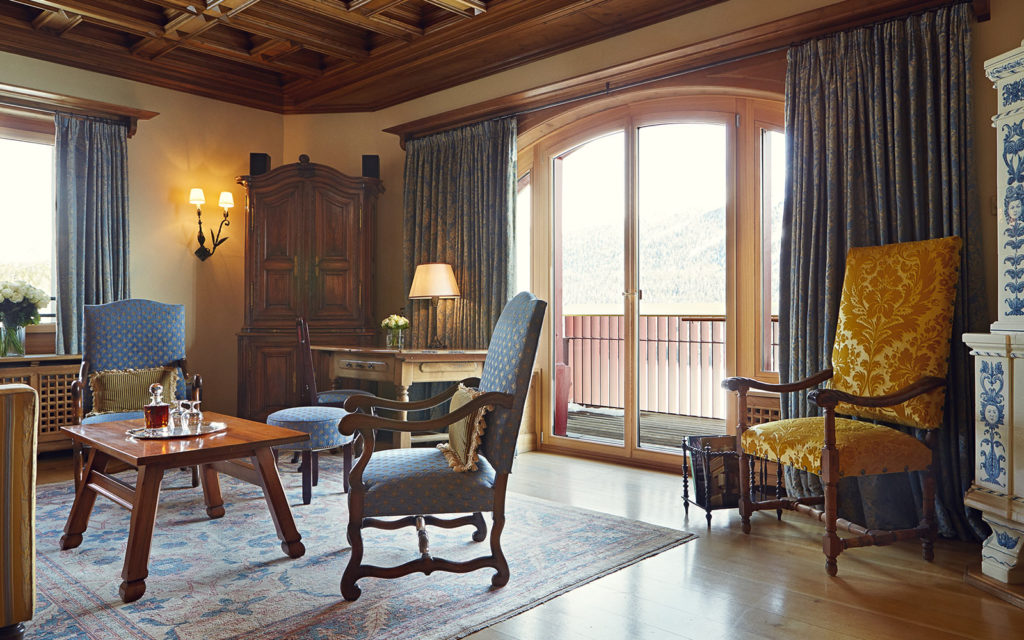 Back in the day, Alfred Hitchcock was a regular here, staying in Badrutt's Palace Hotel annually for 50 years. In the picture above, you see the Hitchcock Suite at the Palace.
Rooms & Suites
They have a total of 157 rooms, 37 of which are suites and junior suites. There are four room and seven suite categories ranging from CHF 490.00 to CHF 20'230.00.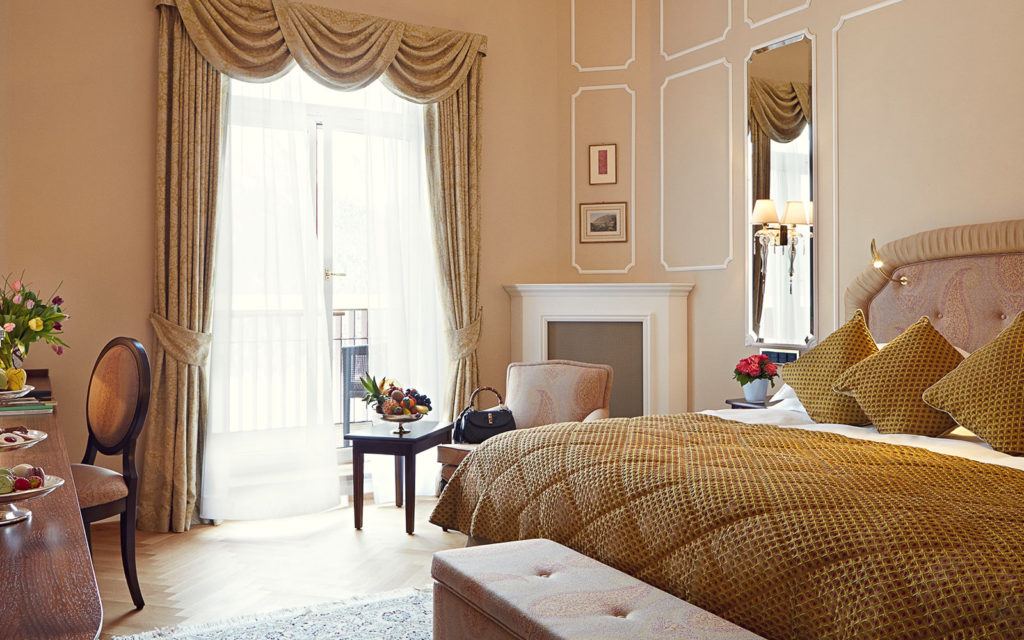 I stayed in a Double Room Deluxe with lake view on the 5th floor. Spacious, individually designed, soothing colors. Only the best materials are used, such as Italian marble in the bathroom. My opinion: At the Palace, it is all about details. Very charming and your home away from home!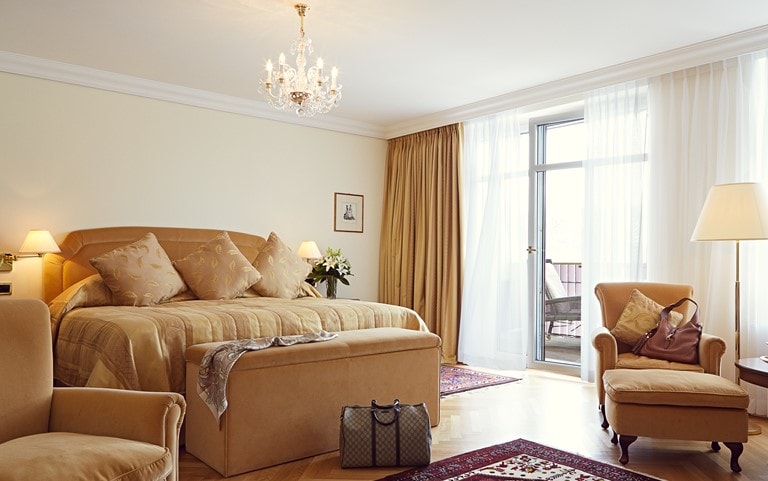 My friend Milos stayed in a Junior Suite Deluxe on the 2nd floor. The Junior Suite Deluxe meets the demands of a modern man or woman who knows exactly what he or she wants. Guaranteed lake view. Own balcony. Spacious and enough storage. Noble materials – and everything stylish.
My favorite suite is the Hans Badrutt Suite. This suite with lake view is like a catchy tune: it stays on your mind. A marble entrance hall. A cosy library. The princess-like bathroom with make up mirror. From the Jacuzzi the princess overlooks the mountains. The dressing room provides ample space for all treasures. Simply magical!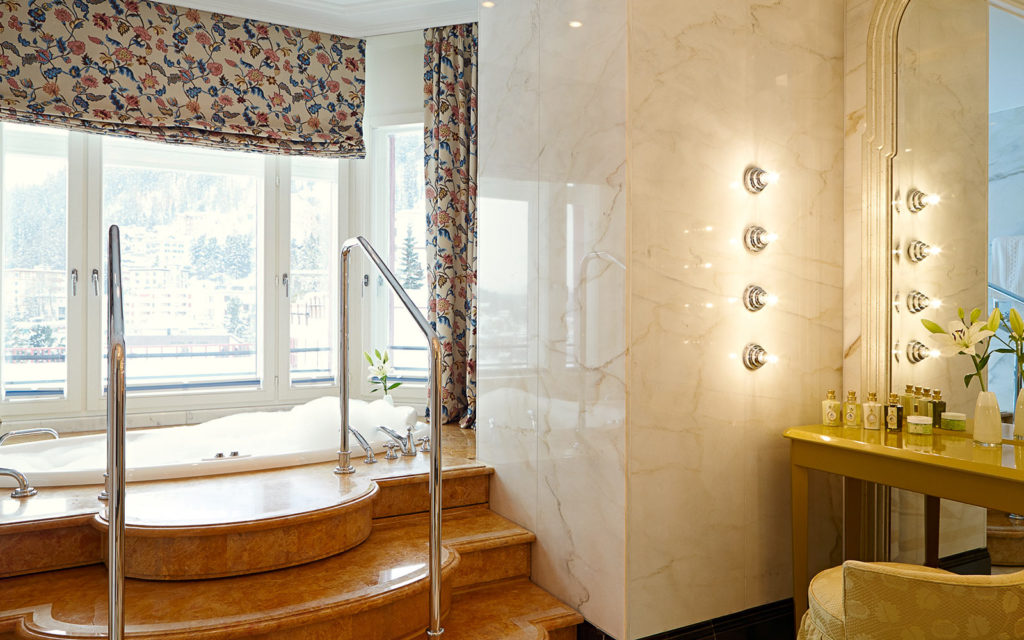 Restaurants, Bars and Night Club
IGNIV@Badrutt's Palace: A new restaurant concept never seen before in St. Moritz. IGNIV@Badrutt's Palace by Andreas Caminada opened on 21st December 2016 in the rooms of Le Relais. IGNIV means »nest« and for Andreas Caminada, the 3 Michelin starred Swiss chef, stands for sharing values, social exchange and comfort. Caminada's innovative finedining-sharing-experience focuses on time spent together, sharing menu components served on platters and in pans.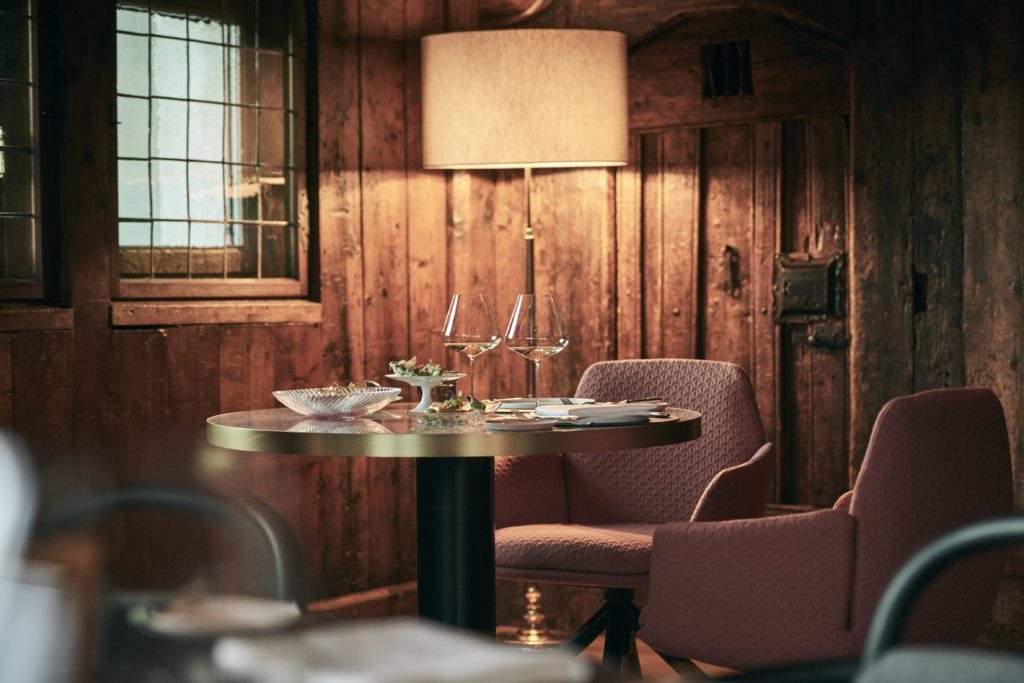 La Coupole/Matsuhisa@Badrutt's Palace: in the 2014/15 winter season the Japanesese star chef Nobuyuki Matsuhisa (»NOBU«) opened his premier brand Matsuhisa in the former tennis hall, which was once Europe's first. The Martin Brudnizki Design Studio in London designed the unique interior of this 108 seat restaurant where original classic elements are skilfully combined with modern style. One such example is the original studded steel girders of the former tennis hall which now support a glass dome. This affords guests a view of the legendary hotel tower and also acts as both the landmark and namesake of ›La Coupole‹. The restaurant incorporates a cocktail and sushi bar as well as a private dining room. Japanese Peruvian cuisine; only open in the winter season.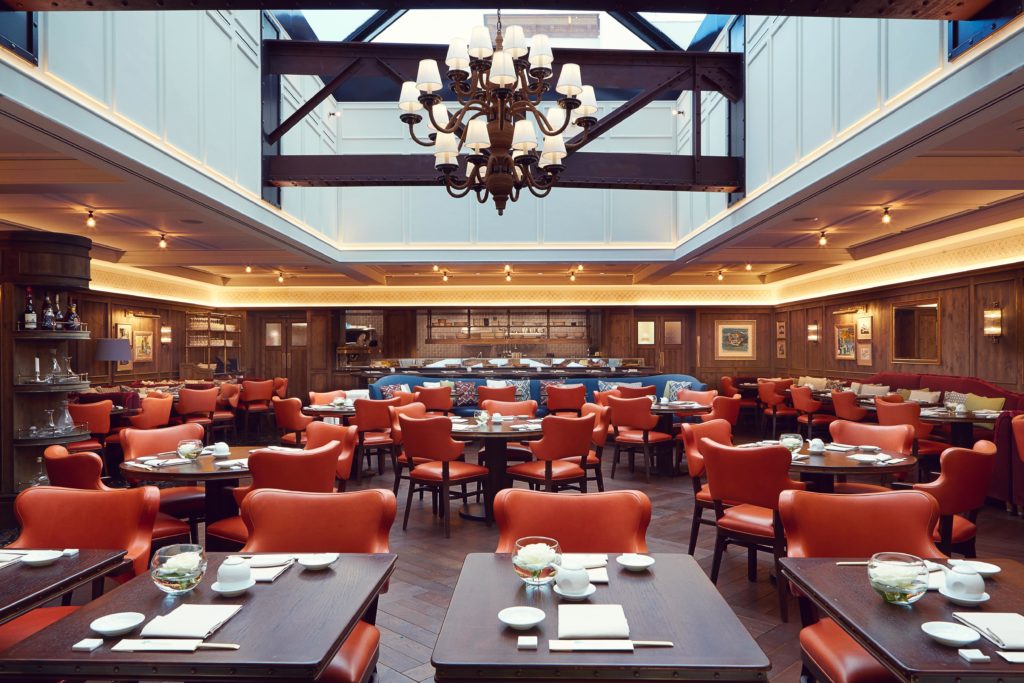 Le Restaurant: The Grande Dame of Badrutt's Palace Hotel's restaurants. Guests enjoy glamorous nights in a unique setting for a classic dinner, candlelight dinner or a cultural event. This venue seats 300 people and features International and French cuisine. During the winter a harpist entertains guests for breakfast. A set dinner is served daily throughout the summer and winter season. Dress code: From 07.30 pm jacket required, tie desired.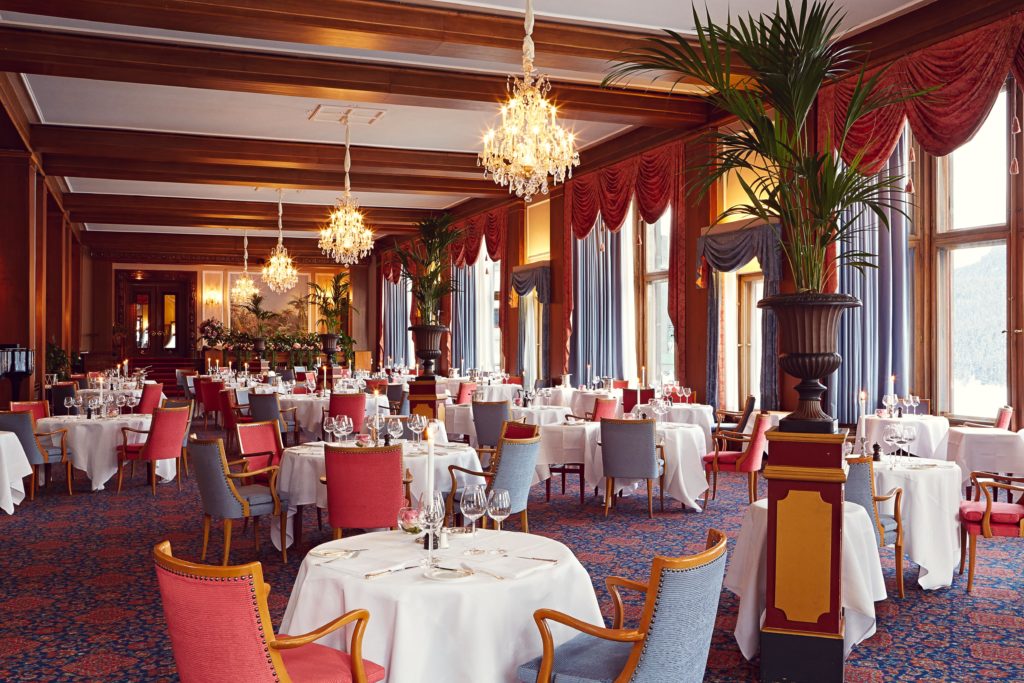 Le Relais: The Le Relais restaurant offers French cuisine for lunch daily (in winter). The restaurant offers a cosy atmosphere with its colourful décor in the Belle Epoque style and large windows with stunning views over Lake St. Moritz. It can be divided into two dining areas as well as a separate area for small to medium sized private events. In summer the breakfast buffet is served here.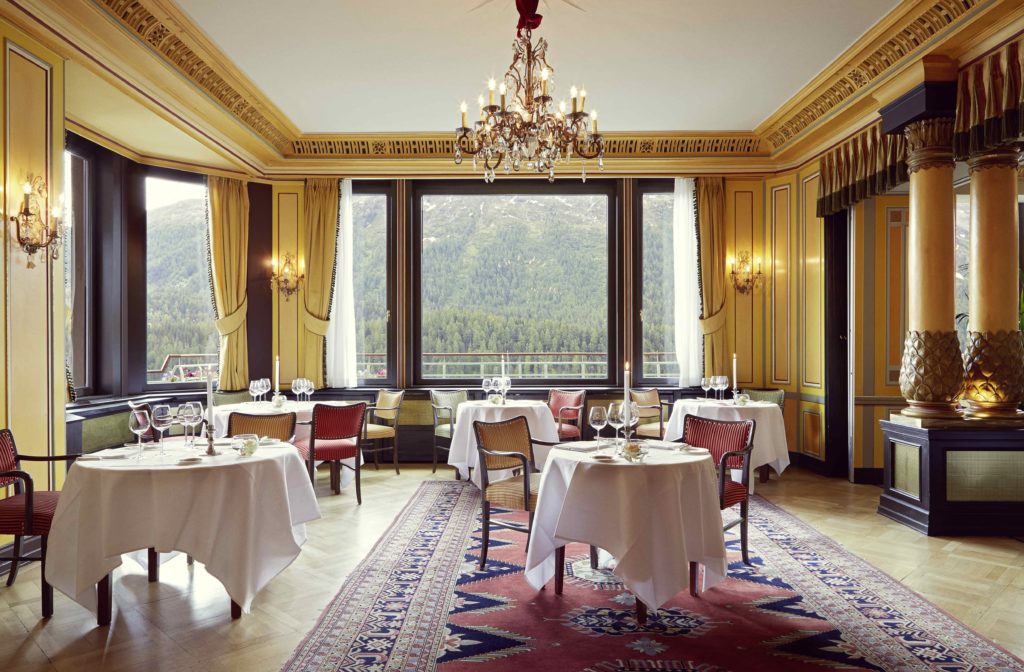 Renaissance Bar – Vintage Cigar Lounge: Smoking allowed – in particular fine Cuban cigars! From 3rd December 2016 the Renaissance Bar will become Europe's first »Vintage Cigar Lounge«. Pure indulgence. The décor oozes comfort and encourages lounging. An exclusive choice of cigars. Paired with drinks and cocktails mixed by Andrea Delvo, Manager of the popular bar.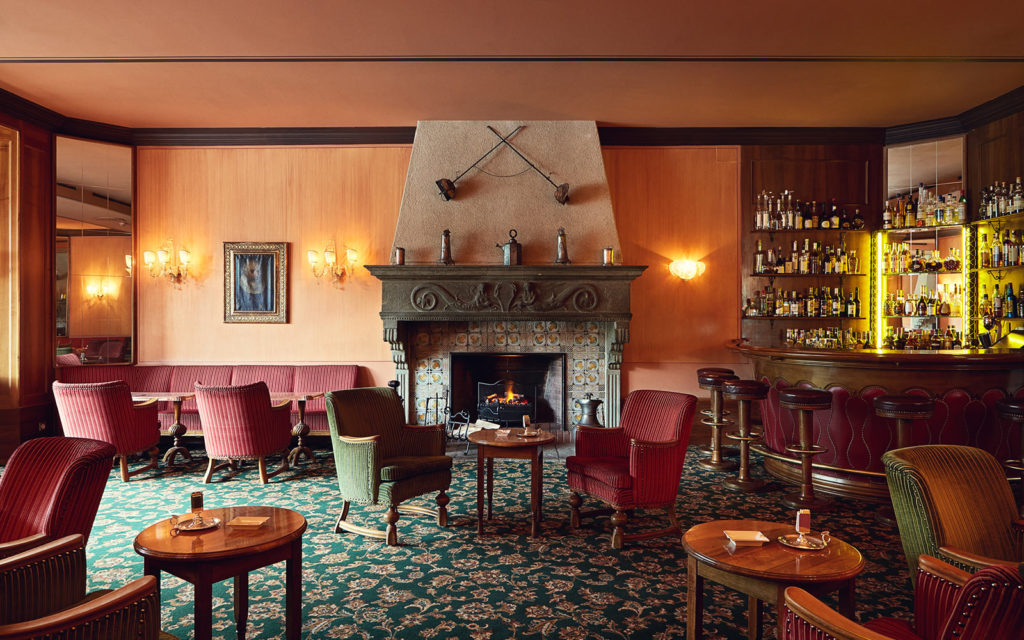 Le Grand Hall: The legendary lobby of the hotel with its stunning views, extravagant décor and fantastic architecture is known affectionately as the »living room of St. Moritz«. Guests can enjoy the hotel's glamorous atmosphere over High Tea, champagne and caviar with live piano accompaniment.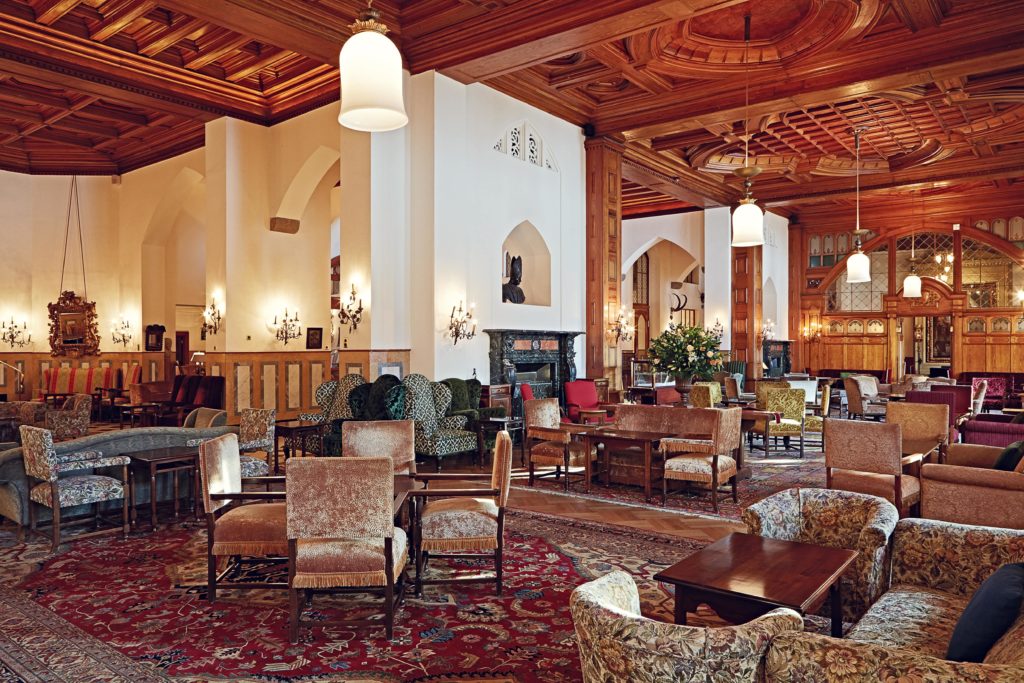 La Diala (Rhaeto-Romanic for »mountain fairy«): The latest of Badrutt's Palace Hotel's restaurants. Situated within Palace Wellness, the restaurant offers a light Mediterranean cuisine with a wide selection of salads and sandwiches. The family friendly restaurant with its terrace opens daily from 09.00 am to 08.00 pm.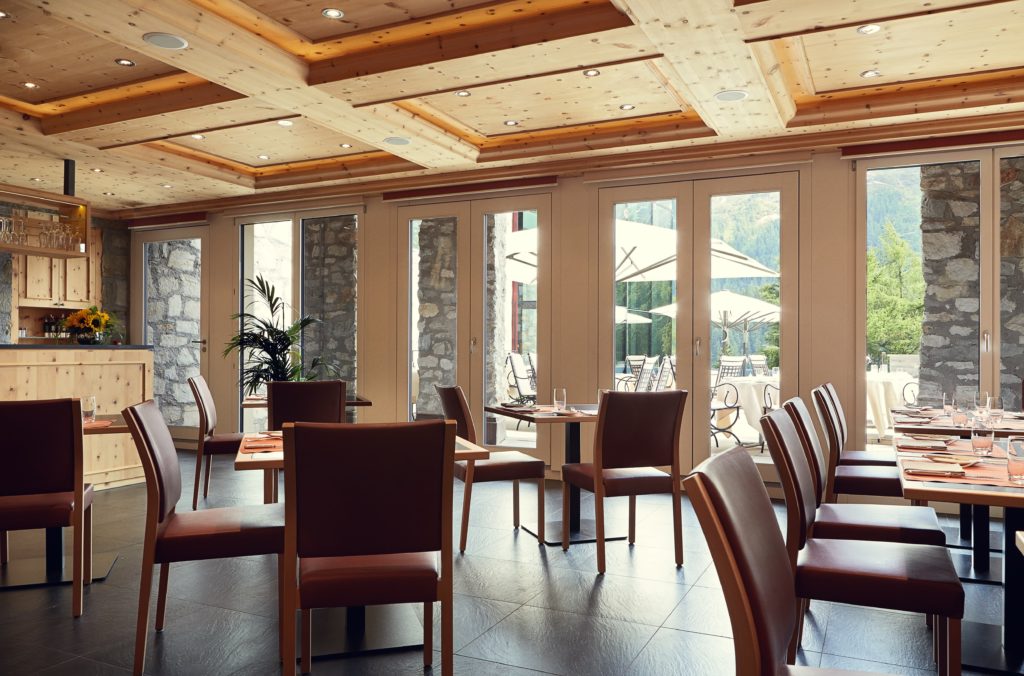 Chesa Veglia: One of the oldest farmhouses of St. Moritz (built in 1658). Chesa Veglia is a hideaway for the rich and famous and its restaurants are among the favourites in St. Moritz. It features three restaurants and two bars: The Pizzeria Heuboden for original Italian pizza and pasta, the Grill Chadafö for elegant dining with classic French cuisine and the Patrizier Stuben for Swiss and International specialities. The Polo Bar and Carigiet Bar are the perfect place for a get-together, as well as for pre and after dinner drinks.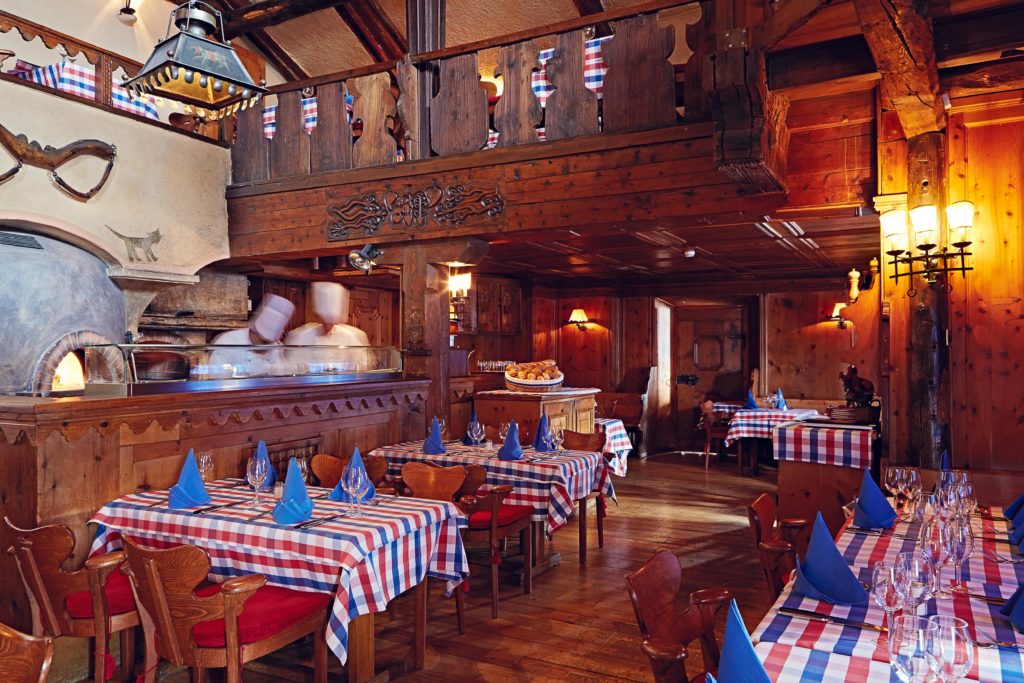 King's Club: All party animals and fans of sophisticated nightlife are on tenterhooks. The new King's Club has been revealed in its new outfit during winter season 2016/17. Tantalising afresh in shimmering red and glittering gold. Sizzling with life and energy, on fire. Mirrors, sparkle and light elements galore make the club and its future clubbers shine bright. The new King's Club celebrates the beautiful things in life: combining the joy of live music and famous DJ stars with an elegant, relaxed atmosphere and a tempting list of signature drinks and irresistible urban street food. Open only during the winter season.
Hotel facilities
Palace Wellness
Indoor swimming pool with access to heated outdoor pool, Jacuzzi
Treatment Centre with ten individual treatment rooms including two luxury Spa
Suites, private Hair Spa, Pedi Spa, Solarium, one room for facial treatments and four
rooms for body treatments, Wet Zone/ Palace Spa with two Saunas, Ice Room, Mist
Room, Aroma Therapy Room, Salt Steam Room, Massage Shower and Rain Shower
Fitness Centre with latest fitness and cardio facilities
Yoga room
Private sun terrace
Outdoor tennis courts managed by professional tennis coaches (summer only)
Natural outdoor ice-rink with instructor (winter only)
Kids' Club Palazzino with professional day care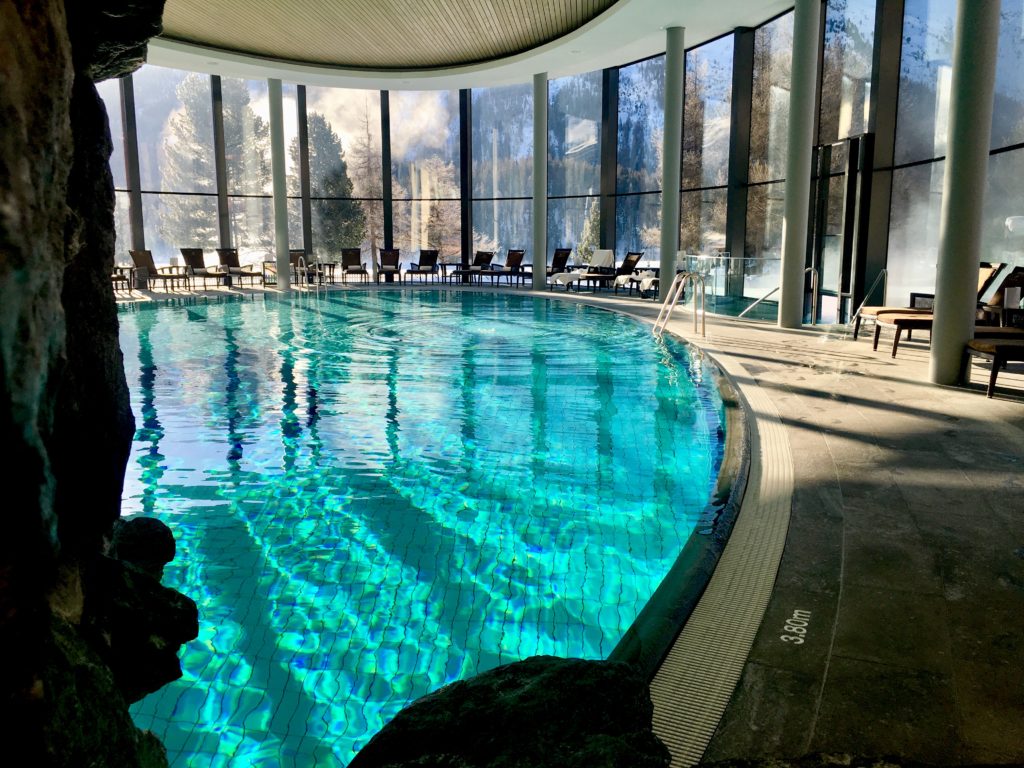 Palace Galerie
Gallery with designer boutiques and elegant jewellers plus shopping guide: Bulgari,
Rebecca Ardessi, Church's, Embassy Jewel AG, Louis Vuitton, Cartier, De Grisogono, Les
Ambassadeurs, Trois Pommes, Miu Miu, de Nicola, Gübelin, Four Emotions, Santoni, Snow
Sports St. Moritz, Tom Ford, Gucci, Bottega Veneta, Giorgio Armani, Harry Winston, Lucia
Pieri, Fabio Caviglia and Galerie Gmurzynska
Service Spectrum
Palace Ski School in winter
In-house ski service, shop and rentals in winter
Ski pass included
Kids' Club Palazzino‹ with professional day care included
Free laundry service for children until 12 years
24-hour Room Service
24-hour Concierge Service
Butler service for all rooms and suites
Free use of refreshment bar, movie channels, WiFi Internet access in all areas and free
newspaper
Limousine service and car hire, including Rolls Royce transfers
Shuttle service to/from Zurich, Milan and Samedan airports on request
Free use of all fitness facilities
Free access to ice-rink
Events & Guest Relations Team
In-house fitness trainer
In-house bridge hostess
Baby sitting service
Coiffeur Hair Spa
To sum it all up: Tradition and quality endure. So it says daily in the ads. If the sales arguments are still the same almost 90 years later, it seems like tradition, quality and innovation were actually proven – and the St. Moritz glamour-factor is still there.
xoxo